There are a number of sailing heros and heroines who are known to us and we often read about them in the news. They are the one's whose opinions are asked for in all matters sailing related. The likes of Sir Robin Knox Johnson of course, who has, very justifiably been awarded Yachtsman Of The Year for the third time, for his completion of the Route Du Rhum Race at age 75- amazing! Others such as Sir Ben Ainslie of course and then Dame Eileen MacArthur, although we do not seem to hear so much from her now- her choice perhaps to keep away from the spotlight?
However, besides these well known and well deserved sailing heros and heroines, stand many others who don't hit the headlines in the same way (and perhaps they are very glad of that?). Often these are local Solent sailors, who have completed amazing feats.
Dee Caffari is one of these of course. A real sailing heroine; the first woman to sail solo both ways around the world-what incredible endurance!
Miranda Merron is my personal latest unsung heroine. She has just been awarded 'runner up' position of Yachtsman(?) Of The Year for her achievements in 2014 which culminated in racing solo in the Route Du Rhum from St Malo to Guadeloupe. She came 6th out of the 43 competitors racing in the Class 40 class, on board the yacht 'Campagne De France'. Earlier in the the year she and her sailing partner won the Class 40 championship.
Here she is before the start, standing amongst 90 others skippers (how daunting must that be in itself!)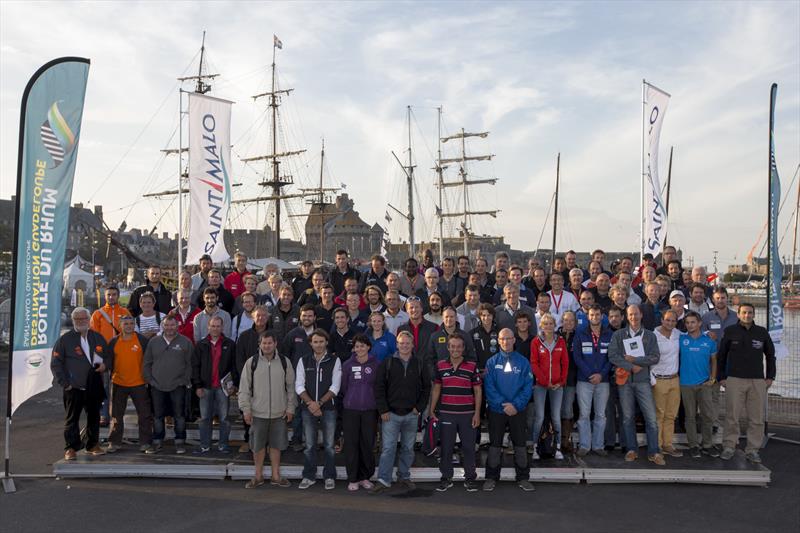 And here she is jubilant at the finish of the Route Du Rhum
Have you got an unsung sailing hero or heroine? Let us know who.
Jannine